SPRING, ITS NEARLY HERE.
The last few days we have been out and about locally, so I thought I had better share a few pictures with you. This blog was also supposed to contain pictures from our own little garden, alas we forgot to take them yesterday and today has been really dull and drizzly, not picture weather.
Below, a closeup of a bunch of park Daffodils, there are usually loads of them growing semi wild around our parks, verges and hedgerows.
Below, A bunch of Daffodils surrounded by Primroses, both here in the park and all around Devon they grow wild along the roadsides.
Below, this lovely Blue/Purple Crocus is dotted amongst the trees here.
Below, a bunch of yellow Crocus, this and the blue one is all around the Botanical garden.
Below, the lovely common Alder catkins is very prolific this year and is a sign that spring is near.
below, This lovely yellow Gorse is now out all over Devon.
Well folks its that time of year again, time to go back to the caravan for another season. On Saturday we load up the car with sleeping bags, pillows, oxygen equipment, bottles etc plus food, clothes, walking boots, Television, DVD player, C D s and DVDs and lots more, all this and the fishing tackle isn't even going this time !!!. If we stay over there on Saturday (we may not I have a stinking cold) my blogging will probably be only around once a week, but please do visit occasionally.
Joke of the day.
Do You Ever Wonder Why?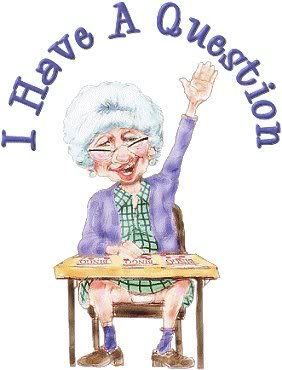 Why isn't the number 11 pronounced onety-one?

*~*~*~*~*~*~*~*~*~*~*
If 4 out of 5 people SUFFER from diarrhea...
does that mean that one out of five enjoys it?
*~*~*~*~*~*~*~*~*~*~*

Why do croutons come in airtight packages?
Aren't they just stale bread to begin with?
*~*~*~*~*~*~*~*~ *~*~*

If people from Poland are called Poles,
then why aren't people from Holland called Holes?
*~*~*~*~*~*~*~*~*~*~*

If a pig loses its voice, is it disgruntled?
*~*~*~*~*~*~*~*~*~*~*

Why is a person who plays the piano called a pianist,
but a person who drives a racecar is not called a racist?
*~*~*~*~*~*~*~*~*~*~*

If it's true that we are here to help others,
then what exactly are the others here for?
*~*~*~*~*~*~*~*~*~*

If lawyers are disbarred and clergymen defrocked,
then doesn't it follow that electricians can be delighted,
musicians denoted, cowboys deranged, models deposed,
tree surgeons debarked, and dry cleaners depressed?
*~*~*~*~*~*~*~*~*~*

In America if Fed Ex and UPS were to merge, would they call it Fed UP? ?
*~*~*~*~*~*~*~*~*~*

Do Lipton Tea employees take "coffee breaks?"
*~*~*~*~*~*~*~*~*~*

What hair color do they put on the driver's licenses of bald men?
*~*~*~*~*~*~*~*~*~*

I thought about how mothers feed their babies with tiny little spoons and forks,
so I wondered what do Chinese mothers use. Toothpicks?
*~*~*~*~*~*~*~*~*~*

Why do they put pictures of criminals up in the Post Office?
What are we supposed to do, write to them?
Why don't they just put their pictures on the postage stamps so
the mailmen can look for them while they deliver the mail?
Now I think this is a good idea!!!!
*~*~*~*~*~*~*~*~*~*

Is it true that you never really learn to swear until you learn to drive?
*~*~*~*~*~*~*~*~*~*

If a cow laughed, would milk come out of her nose?
*~*~*~*~*~*~*~*~*

As income tax time approaches, did you ever notice:
When you put the two words "The" and "IRS" together, it spells
"THEIRS"?